COVID-19 Temporary Treatment Center - Ayeyarwady Center
In an effort to combat an alarming increase of Covid-19 cases, an emergency temporary treatment center, or Alternate Care Facility (ACF), has been constructed at Thuwunna Youth Training Center by the Ayeyarwady Foundation. The current center can accommodate up to 416 patients as well as 8 bedded ICU and will be managed by the Ministry of Health and Sports.
The foundation is currently building another Covid-19 treatment centers to become 920 Bedded treatment Center as following.
Ayeyarwady Center (A) – 425 Beds (8 bedded ICU) + 150 Beds
Ayeyarwady Center (B) – 270 Beds
Ayeyarwady Center (C) – 75 Beds (ICU/HDU)
Volunteer Hostel – 300 Beds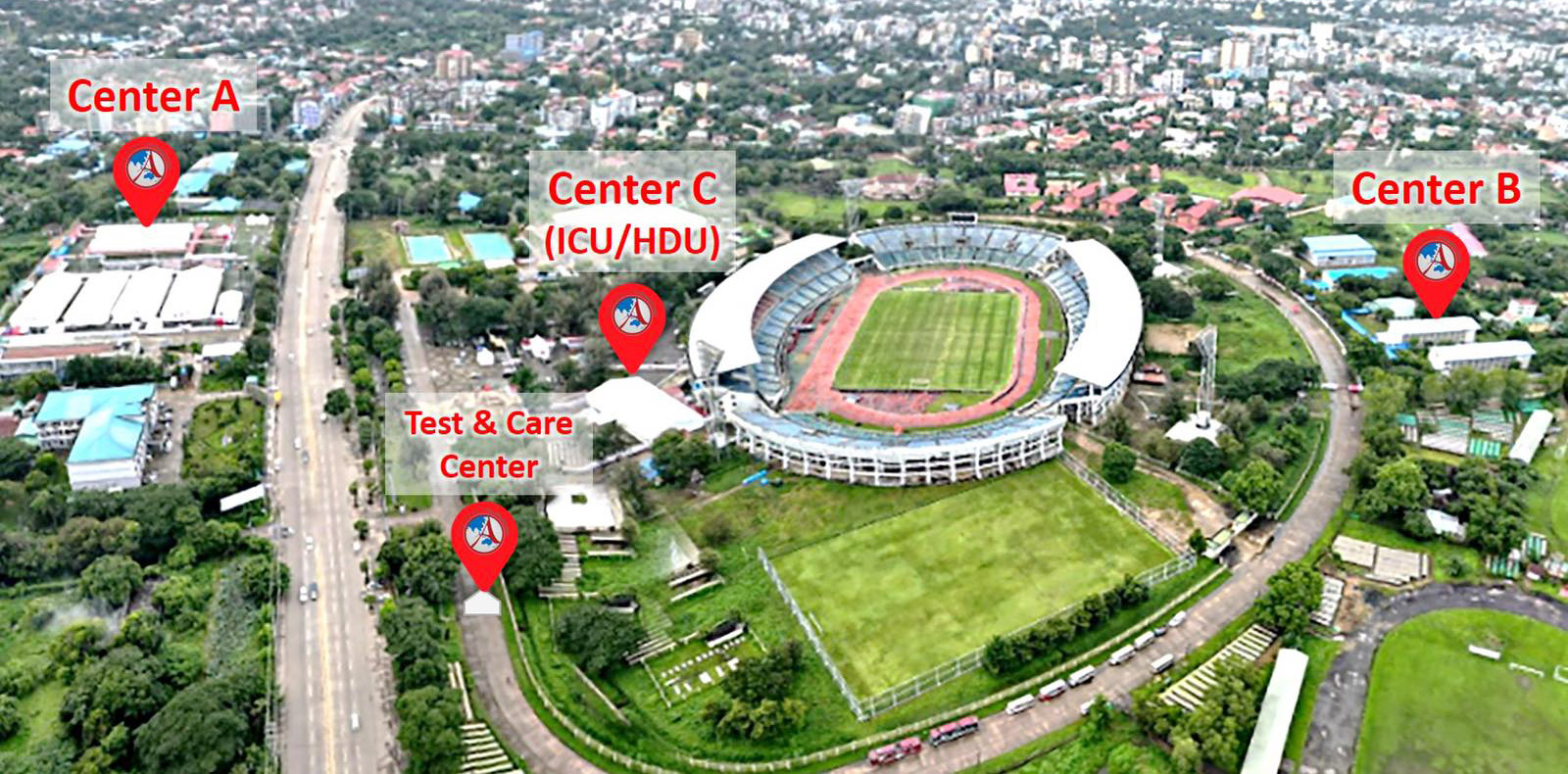 AYEYARWADY CENTER
1000 Bedded Treatment Center
Under the guidance of the Ministry of Health and Sports (MOHS), Ayeyarwady Center by Ayeyarwady Foundation will be extended to (950) bedded treatment center with Center (A), (B), (C).
This extension project will be led by Professor Dr Zaw Wai Soe, Vice Chairman of Yangon Region Covid-19 Prevention, Control and Treatment Coordination Committee, Professor Dr Myint Myint Nyein, Committee's Secretary and U Zaw Zaw, Chairman of Ayeyarwady Foundation.
Ayeyarwady Center (A) is currently providing treatment for 575 patients at Thuwunna Artificial Turf.
Center (B) will have 300 beds and it is being built at Thuwunna Youth Training Camp and Center (C) will be set up with 125 beds (22 beds for ICU and 103 beds for HDU) as Critical Care Unit at Thuwunna Stadium.
Ayeyarwady Foundation is also building another Test & Care center near Center (C) which is located at Thuwunna Stadium.
Donation Highlight
MMK
24.34

Billion

Total contribution to fight against Covid-19 in Myanmar
MMK
17.6

Billion

Contribution from Ayeyarwady Foundation
MMK
7.28

Billion

Contribution from External Donors
Support whichever ways you can.
We believe working together we can overcome the challenge.
Donation Report up to 28th September 2020